Search by Keyword
As Seen On: Fox News; ABC; CBS; NBC, Hallmark Channel, A & E, Discovery, Glenn Beck, Doomsday Preppers

Free Shipping On All Legacy Products!
Note:
All prices in US Dollars
Shopping Basket
Categories
Be Prepared! *Get a Kit *Make a Plan *Be Informed!
The Following Contains Important Information, Tips and Guides To Help You and Your Loved Ones Prepare For & Survive an Emergency or Disaster.
Please check back here often as this section will be frequently updated with information on all types of disasters... from Earthquakes and Hurricanes to Terrorist Attacks.
TORNADO PREPAREDNESS INFO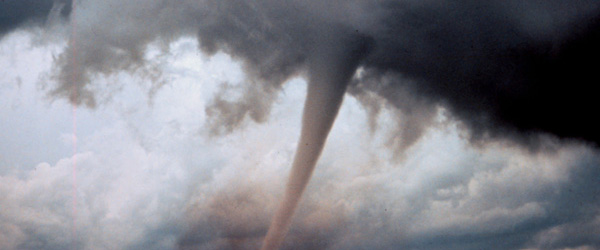 Tornadoes are nature's most violent storms. Spawned from powerful thunderstorms, tornadoes can cause fatalities and devastate a neighborhood in seconds. A tornado appears as a rotating, funnel-shaped cloud that extends from a thunderstorm to the ground with whirling winds that can reach 300 miles per hour. Damage paths can be in excess of one mile wide and 50 miles long. Every state is at some risk from this hazard. Some tornadoes are clearly visible, while rain or nearby low-hanging clouds obscure others. Occasionally, tornadoes develop so rapidly that little, if any, advance warning is possible. Before a tornado hits, the wind may die down and the air may become very still. A cloud of debris can mark the location of a tornado even if a funnel is not visible. Tornadoes generally occur near the trailing edge of a thunderstorm. It is not uncommon to see clear, sunlit skies behind a tornado.
BEFORE A TORNADO
To begin preparing, you should build or buy an emergency kit and make a family communications plan (see our Family Emergency Plan.)

Listen to NOAA Weather Radio or to commercial radio or television newscasts for the latest information. In any emergency, always listen to the instructions given by local emergency management officials.

Be alert to changing weather conditions. Look for approaching storms.

Look for the following danger signs:

Dark, often greenish sky

Large hail

A large, dark, low-lying cloud (particularly if rotating)

Loud roar, similar to a freight train.

If you see approaching storms or any of the danger signs, be prepared to take shelter immediately.
DURING A TORNADO
If you are in:
Then:

A structure (e.g. residence, small building, school, nursing home, hospital, factory, shopping center, high-rise building)

Go to a pre-designated shelter area such as a safe room, basement, storm cellar, or the lowest building level. If there is no basement, go to the center of an interior room on the lowest level (closet, interior hallway) away from corners, windows, doors, and outside walls. Put as many walls as possible between you and the outside. Get under a sturdy table and use your arms to protect your head and neck.

In a high-rise building, go to a small interior room or hallway on the lowest floor possible.

Put on sturdy shoes.

Do not open windows.

A trailer or mobile home

Get out immediately and go to the lowest floor of a sturdy, nearby building or a storm shelter. Mobile homes, even if tied down, offer little protection from tornadoes.

The outside with no shelter

Immediately get into a vehicle, buckle your seat belt and try to drive to the closest sturdy shelter.

If your vehicle is hit by flying debris while you are driving, pull over and park.

Stay in the car with the seat belt on. Put your head down below the windows; cover your head with your hands and a blanket, coat or other cushion if possible.

If you can safely get noticeably lower than the level of the roadway, leave your car and lie in that area, covering your head with your hands

Do not get under an overpass or bridge. You are safer in a low, flat location.

Never try to outrun a tornado in urban or congested areas in a car or truck. Instead, leave the vehicle immediately for safe shelter.

Watch out for flying debris. Flying debris from tornadoes causes most fatalities and injuries.
AFTER A TORNADO
Injury may result from the direct impact of a tornado or it may occur afterward when people walk among debris and enter damaged buildings. A study of injuries after a tornado in Marion, Illinois, showed that 50 percent of the tornado-related injuries were suffered during rescue attempts, cleanup and other post-tornado activities. Nearly a third of the injuries resulted from stepping on nails. Because tornadoes often damage power lines, gas lines or electrical systems, there is a risk of fire, electrocution or an explosion. Protecting yourself and your family requires promptly treating any injuries suffered during the storm and using extreme care to avoid further hazards.
Injuries:
Check for injuries. Do not attempt to move seriously injured people unless they are in immediate danger of further injury. Get medical assistance immediately. If someone has stopped breathing, begin CPR if you are trained to do so. Stop a bleeding injury by applying direct pressure to the wound. Have any puncture wound evaluated by a physician. If you are trapped, try to attract attention to your location.
General Safety Precautions
Here are some safety precautions that could help you avoid injury after a tornado:
Continue to monitor your battery-powered radio or television for emergency information.

Be careful when entering any structure that has been damaged.

Wear sturdy shoes or boots, long sleeves and gloves when handling or walking on or near debris.

Be aware of hazards from exposed nails and broken glass.

Do not touch downed power lines or objects in contact with downed lines. Report electrical hazards to the police and the utility company.

Use battery-powered lanterns, if possible, rather than candles to light homes without electrical power. If you use candles, make sure they are in safe holders away from curtains, paper, wood or other flammable items. Never leave a candle burning when you are out of the room.

Never use generators, pressure washers, grills, camp stoves or other gasoline, propane, natural gas or charcoal-burning devices inside your home, basement, garage or camper - or even outside near an open window, door or vent. Carbon monoxide (CO) - an odorless, colorless gas that can cause sudden illness and death if you breathe it - from these sources can build up in your home, garage or camper and poison the people and animals inside. Seek prompt medical attention if you suspect CO poisoning and are feeling dizzy, light-headed or nauseated.

Hang up displaced telephone receivers that may have been knocked off by the tornado, but stay off the telephone, except to report an emergency.

Cooperate fully with public safety officials.

Respond to requests for volunteer assistance by police, fire fighters, emergency management and relief organizations, but do not go into damaged areas unless assistance has been requested. Your presence could hamper relief efforts and you could endanger yourself.
Inspecting the Damage
After a tornado, be aware of possible structural, electrical or gas-leak hazards in your home. Contact your local city or county building inspectors for information on structural safety codes and standards. They may also offer suggestions on finding a qualified contractor to do work for you.

In general, if you suspect any damage to your home, shut off electrical power, natural gas and propane tanks to avoid fire, electrocution or explosions.

If it is dark when you are inspecting your home, use a flashlight rather than a candle or torch to avoid the risk of fire or explosion in a damaged home.

If you see frayed wiring or sparks, or if there is an odor of something burning, you should immediately shut off the electrical system at the main circuit breaker if you have not done so already.

If you smell gas or suspect a leak, turn off the main gas valve, open all windows and leave the house immediately. Notify the gas company, the police or fire departments, or State Fire Marshal's office and do not turn on the lights, light matches, smoke or do anything that could cause a spark. Do not return to your house until you are told it is safe to do so.
Wear sturdy shoes or boots, long sleeves and gloves.

Learn proper safety procedures and operating instructions before operating any gas-powered or electric-powered saws or tools.

Clean up spilled medicines, drugs, flammable liquids and other potentially hazardous materials.
HURRICANE PREPAREDNESS INFO:
Hurricanes are severe tropical storms that form in the southern Atlantic Ocean, Caribbean Sea, Gulf of Mexico and in the eastern Pacific Ocean. People who live in hurricane prone communities should know their vulnerability, and what actions should be taken to reduce the effects of these devastating storms. The information on this page can be used to save lives at work, home, while on the road, or on the water.
Step 1) Buy A "Go Bag" or Build a Kit:
Get a kit which includes items like non-perishable food, water, a battery-powered or hand-crank radio, extra flashlights and batteries. You may want to prepare a portable kit and keep it in your car in case you are told to evacuate. FEMA recommends a kit for your home, one for your workplace and one for your car.
Step 2) Make A Plan:
Make a Family Emergency Plan.
Your family may not be together when disaster strikes, so it is important to know how you will contact one another, how you will get back together and what you will do in case of an emergency. You should also consider:
Evacuation Plans; Family Communications; Utility Shut-off & Safety; Safety Skills
Prepare Your Business
Businesses have a critical role in preparedness. Putting a disaster plan in motion now will improve the likelihood that your company will survive and recover. Owners and managers need to take commonsense measures start getting ready... such as purchasing Office Survival Kits.
Plan to Protect Property
Hurricanes cause heavy rains that can cause extensive flood damage in coastal and inland areas. Everyone is at risk and should consider flood insurance protection. Flood insurance is the only way to financially protect your property or business from flood damage. To learn more about your flooding risk and how to protect yourself and your business, visit the NFIP Web site, www.floodsmart.gov or call 1-800-427-2419.
In addition to insurance, you can also:
Cover all of your home's windows with pre-cut ply wood or hurricane shutters to protect your windows from high winds.

Plan to bring in all outdoor furniture, decorations, garbage cans and anything else that is not tied down.

Keep all trees and shrubs well trimmed so they are more wind resistant.

Secure your home by closing shutters, and securing outdoor objects or bringing them inside.

Turn off utilities as instructed. Otherwise, turn the refrigerator thermostat to its coldest setting and keep its doors closed.

Turn off propane tanks.

Install a generator for emergencies

Reinforce your garage doors; if wind enters a garage, it can cause dangerous and expensive structural damage.

Ensure a supply of water for sanitary purposes such as cleaning and flushing toilets. Fill the bathtub and other large containers with water.

Find out how to keep food safe during and after and emergency by visiting www.FoodSafety.gov.
We strongly recommend purchasing our Long Term Food Storage items to make sure you and your family can safely sustain yourselves.
Step 3) Be Informed!
Hurricane hazards come in many forms: lightning, tornadoes, flooding, storm surge, high wind, and even landslides or mudslide can be triggered in mountainous regions. Look carefully at the safety actions associated with each type of hurricane hazard and prepare your family disaster plan accordingly. But remember this is only a guide. The first and most important thing anyone should do when facing a hurricane threat is to use common sense.
Familiarize yourself with the terms that are used to identify a hurricane.
A hurricane watch means a hurricane is possible in your area. Be prepared to evacuate. Monitor local radio and television news outlets or listen to NOAA Weather Radio for the latest developments.
A hurricane warning is when a hurricane is expected in your area. If local authorities advise you to evacuate, leave immediately.
Hurricanes are classified into five categories based on their wind speed, central pressure, and damage potential. Category Three and higher hurricanes are considered major hurricanes, though Categories One and Two are still extremely dangerous and warrant your full attention.
TIPS FOR SURVIVING A HURRICANE!
If a hurricane is likely in your area, you should:
Listen to the radio or TV for information.

Secure your home, close storm shutters, and secure outdoor objects or bring them indoors.

Turn off utilities if instructed to do so. Otherwise, turn the refrigerator thermostat to its coldest setting and keep its doors closed.

Turn off propane tanks.· Avoid using the phone, except for serious emergencies.

Moor your boat if time permits.

Ensure a supply of water for sanitary purposes such as cleaning and flushing toilets. Fill the bathtub and other large containers with water.
You should evacuate under the following conditions:
If you are directed by local authorities to do so. Be sure to follow their instructions.

If you live in a mobile home or temporary structure—such shelters are particularly hazardous during hurricanes no matter how well fastened to the ground.

If you live in a high-rise building—hurricane winds are stronger at higher elevations.

If you live on the coast, on a floodplain, near a river, or on an inland waterway.

If you feel you are in danger.
If you are unable to evacuate, go to your safe room. If you do not have one, follow these guidelines:
Stay indoors during the hurricane and away from windows and glass doors.

Close all interior doors—secure and brace external doors.

Keep curtains and blinds closed. Do not be fooled if there is a lull; it could be the eye of the storm - winds will pick up again.

Take refuge in a small interior room, closet, or hallway on the lowest level.

Lie on the floor under a table or another sturdy object.
TIPS FOR BEFORE / DURING & AFTER AN EARTHQUAKE!
What to Do Before an Earthquake!
Earthquakes strike suddenly, violently and without warning. Identifying potential hazards ahead of time and advance planning can reduce the dangers of serious injury or loss of life from an earthquake. Repairing deep plaster cracks in ceilings and foundations, anchoring overhead lighting fixtures to the ceiling, and following local seismic building standards, will help reduce the impact of earthquakes.
Six Ways to Plan Ahead
Check for Hazards in the Home

Fasten shelves securely to walls.

Place large or heavy objects on lower shelves.

Store breakable items such as bottled foods, glass, and china in low, closed cabinets with latches.

Hang heavy items such as pictures and mirrors away from beds, couches, and anywhere people sit.

Brace overhead light fixtures.

Repair defective electrical wiring and leaky gas connections. These are potential fire risks.

Secure a water heater by strapping it to the wall studs and bolting it to the floor.

Repair any deep cracks in ceilings or foundations. Get expert advice if there are signs of structural defects.

Store weed killers, pesticides, and flammable products securely in closed cabinets with latches and on bottom shelves.





Identify Safe Places Indoors and Outdoors

Under sturdy furniture such as a heavy desk or table.

Against an inside wall.

Away from where glass could shatter around windows, mirrors, pictures, or where heavy bookcases or other heavy furniture could fall over.

In the open, away from buildings, trees, telephone and electrical lines, overpasses, or elevated expressways.





Educate Yourself and Family Members

Contact your local emergency management office or American Red Cross chapter for more information on earthquakes. Also read the "How-To Series" for information on how to protect your property from earthquakes.

Teach children how and when to call 9-1-1, police, or fire department and which radio station to tune to for emergency information.

Teach all family members how and when to turn off gas, electricity, and water.





Have Disaster Supplies on Hand

Flashlight and extra batteries.

Portable battery-operated radio and extra batteries.

First aid kit and manual.

Emergency food and water.

Nonelectric can opener.

Essential medicines.

Cash and credit cards.

Sturdy shoes.





Develop an Emergency Communication Plan

In case family members are separated from one another during an earthquake (a real possibility during the day when adults are at work and children are at school), develop a plan for reuniting after the disaster.

Ask an out-of-state relative or friend to serve as the "family contact." After a disaster, it's often easier to call long distance. Make sure everyone in the family knows the name, address, and phone number of the contact person.
What to Do During an Earthquake:
Stay as safe as possible during an earthquake. Be aware that some earthquakes are actually foreshocks and a larger earthquake might occur. Minimize your movements to a few steps to a nearby safe place and if you are indoors, stay there until the shaking has stopped and you are sure exiting is safe.
If indoors
DROP to the ground; take COVER by getting under a sturdy table or other piece of furniture; and HOLD ON until the shaking stops. If there isn't a table or desk near you, cover your face and head with your arms and crouch in an inside corner of the building.

Stay away from glass, windows, outside doors and walls, and anything that could fall, such as lighting fixtures or furniture.

Stay in bed if you are there when the earthquake strikes. Hold on and protect your head with a pillow, unless you are under a heavy light fixture that could fall. In that case, move to the nearest safe place.

Use a doorway for shelter only if it is in close proximity to you and if you know it is a strongly supported, loadbearing doorway.

Stay inside until the shaking stops and it is safe to go outside. Research has shown that most injuries occur when people inside buildings attempt to move to a different location inside the building or try to leave.

Be aware that the electricity may go out or the sprinkler systems or fire alarms may turn on.

DO NOT use the elevators.
If outdoors
Stay there.

Move away from buildings, streetlights, and utility wires.

Once in the open, stay there until the shaking stops. The greatest danger exists directly outside buildings, at exits and alongside exterior walls. Many of the 120 fatalities from the 1933 Long Beach earthquake occurred when people ran outside of buildings only to be killed by falling debris from collapsing walls. Ground movement during an earthquake is seldom the direct cause of death or injury. Most earthquake-related casualties result from collapsing walls, flying glass, and falling objects.
If in a moving vehicle
Stop as quickly as safety permits and stay in the vehicle. Avoid stopping near or under buildings, trees, overpasses, and utility wires.

Proceed cautiously once the earthquake has stopped. Avoid roads, bridges, or ramps that might have been damaged by the earthquake.
If trapped under debris
Do not light a match.

Do not move about or kick up dust.

Cover your mouth with a handkerchief or clothing.

Tap on a pipe or wall so rescuers can locate you. Use a whistle if one is available. Shout only as a last resort. Shouting can cause you to inhale dangerous amounts of dust.
What to Do After an Earthquake
Expect aftershocks. These secondary shockwaves are usually less violent than the main quake but can be strong enough to do additional damage to weakened structures and can occur in the first hours, days, weeks, or even months after the quake.


Listen to a battery-operated radio or television. Listen for the latest emergency information.


Use the telephone only for emergency calls.


Open cabinets cautiously. Beware of objects that can fall off shelves.


Stay away from damaged areas. Stay away unless your assistance has been specifically requested by police, fire, or relief organizations. Return home only when authorities say it is safe.


Be aware of possible tsunamis if you live in coastal areas. These are also known as seismic sea waves (mistakenly called "tidal waves"). When local authorities issue a tsunami warning, assume that a series of dangerous waves is on the way. Stay away from the beach.


Help injured or trapped persons. Remember to help your neighbors who may require special assistance such as infants, the elderly, and people with disabilities. Give first aid where appropriate. Do not move seriously injured persons unless they are in immediate danger of further injury. Call for help.


Clean up spilled medicines, bleaches, gasoline or other flammable liquids immediately. Leave the area if you smell gas or fumes from other chemicals.


Inspect the entire length of chimneys for damage. Unnoticed damage could lead to a fire.


Inspect utilities.


Check for gas leaks. If you smell gas or hear blowing or hissing noise, open a window and quickly leave the building. Turn off the gas at the outside main valve if you can and call the gas company from a neighbor's home. If you turn off the gas for any reason, it must be turned back on by a professional.


Look for electrical system damage. If you see sparks or broken or frayed wires, or if you smell hot insulation, turn off the electricity at the main fuse box or circuit breaker. If you have to step in water to get to the fuse box or circuit breaker, call an electrician first for advice.


Check for sewage and water lines damage. If you suspect sewage lines are damaged, avoid using the toilets and call a plumber. If water pipes are damaged, contact the water company and avoid using water from the tap. You can obtain safe water by melting ice cubes
Sign Up
For Our Newsletter and Receive Exclusive Deals and Articles!